Company History / Mission Statement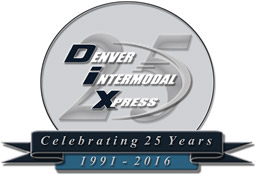 Denver Intermodal Express (DIX) began in 1991 to provide intermodal service in the Denver region. Since then, we have expanded by adding a container depot, warehouses, a container freight station (CFS), 3 additional yards for parking/storage, flatbed service, refer service, lift gate straight trucks, a long haul division and air freight service. Our main warehouse has rail siding, dock doors and drive in doors to facilitate the large volume of transloading we do. When it comes to transportation and warehousing services in this region, one call is all you need to make.
We are very proud of our experienced staff and believe in providing a quality work environment and equipping our people with the best tools needed to provide our clients with the finest service possible. Our turnover rate is very low largely due to the care and support we give our people. Each individual is treated with respect and empowered and trusted to make decisions so they really do have the ability to make a difference. Our approach is always open minded to best service your needs and solve any problems that arise. We pledge to always be a company that is easy to work with and never become bureaucratic or arbitrary in our ways of doing business.
At DIX, we truly are FAMILY